Product Description
| | |
| --- | --- |
| Product Name | Metal bellow coupling |
| Material | Aluminum  |
| Type | BC16-82 |
| Structure  | 1 shaft ( 1 / 1a / 1b ) with bore |
| Bore size  | 4-42 mm |
| Weight  | About 8-1200G g / pcs |
| packing | plastic bag +paper box +wooden box +wooden pallet |
1. Engineering: machine tools, foundry equipments, conveyors, compressors, painting systems, etc.
2. Pharmaceuticals& Food Processing: pulp mill blowers, conveyor in warehouse, agitators, grain, boiler, bakery machine, labeling machine, robots, etc.
3. Agriculture Industries: cultivator, rice winnower tractor, harvester, rice planter, farm equipment, etc.
4. Texitile Mills: looms, spinning, wrappers, high-speed auto looms, processing machine, twister, carding machine, ruler calendar machine, high speed winder, etc.
5. Printing Machinery: newspaper press, rotary machine, screen printer machine, linotype machine offset printer, etc.
6. Paper Industries: chipper roll grinder, cut off saw, edgers, flotation cell and chips saws, etc.
7. Building Construction Machinery: buffers, elevator floor polisher mixing machine, vibrator, hoists, crusher, etc.
8. Office Equipments: typewriter, plotters, camera, money drive, money sorting machine, data storage equipment, etc.
9. Glass and Plastic Industries: conveyor, carton sealers, grinders, creeper paper manufacturing machine, lintec backing, etc.
10. Home Appliances: vacuum cleaner, laundry machine, icecream machine, sewing machine, kitchen equipments, etc.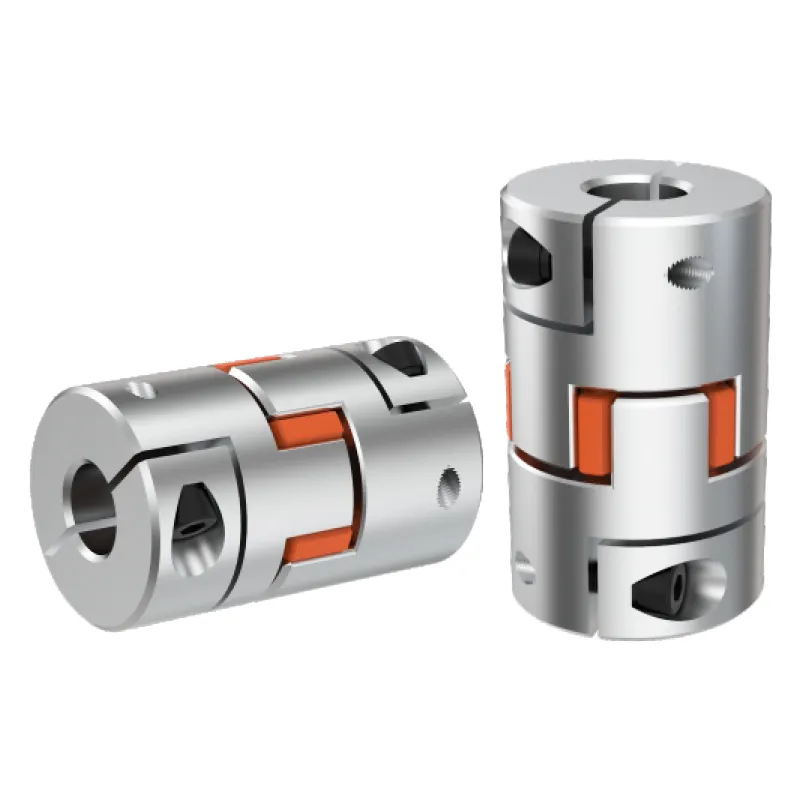 Impact of Jaw Coupling on the Overall Reliability of Connected Equipment
A jaw coupling plays a critical role in enhancing the overall reliability of connected equipment in mechanical power transmission systems. Its design and features contribute to various aspects that positively influence reliability:
Misalignment Compensation: One of the key benefits of jaw couplings is their ability to accommodate misalignment between shafts. By allowing for angular, parallel, and axial misalignment, the jaw coupling reduces stress on connected equipment. It helps prevent excessive forces and shaft bending that can lead to premature wear or failure.
Shock Absorption: The elastomeric spider element used in jaw couplings acts as a shock absorber. It dampens vibrations and shock loads, protecting connected equipment from sudden jolts or impacts that could cause damage or fatigue over time.
Torsional Damping: Jaw couplings provide torsional damping, reducing the risk of torsional vibrations that can negatively affect equipment performance. By minimizing vibrations, the coupling contributes to smoother operation and extended equipment life.
Fail-Safe Design: In the event of a spider failure, jaw couplings often offer a fail-safe design. The spider is a replaceable component, and its failure does not typically lead to catastrophic failure of the coupling or connected equipment. This characteristic enhances the overall system reliability and simplifies maintenance.
Low Maintenance: Jaw couplings are relatively low maintenance compared to other coupling types. The elastomeric spider does not require lubrication and has a longer service life compared to metallic couplings. This reduces the frequency of maintenance activities, minimizing downtime and increasing equipment reliability.
Backlash-Free Operation: Some jaw couplings are designed to provide backlash-free operation, ensuring accurate motion transmission without play or clearance. This feature is particularly important in precision systems, preventing positioning errors and contributing to consistent performance.
Corrosion Resistance: Jaw couplings are available in various materials, including stainless steel and corrosion-resistant alloys. Choosing the appropriate material for the specific environment ensures the coupling's longevity and reliability, even in harsh operating conditions.
Reduced Vibration Transfer: By isolating vibrations, jaw couplings prevent the transfer of harmful vibrations between connected equipment. This safeguard is crucial in delicate systems where excessive vibrations could lead to malfunction or damage.
Overall, a well-chosen and properly installed jaw coupling positively impacts the reliability of connected equipment. It helps prevent mechanical stress, dampens vibrations, and provides a reliable connection between shafts, contributing to the smooth and efficient operation of the entire mechanical system.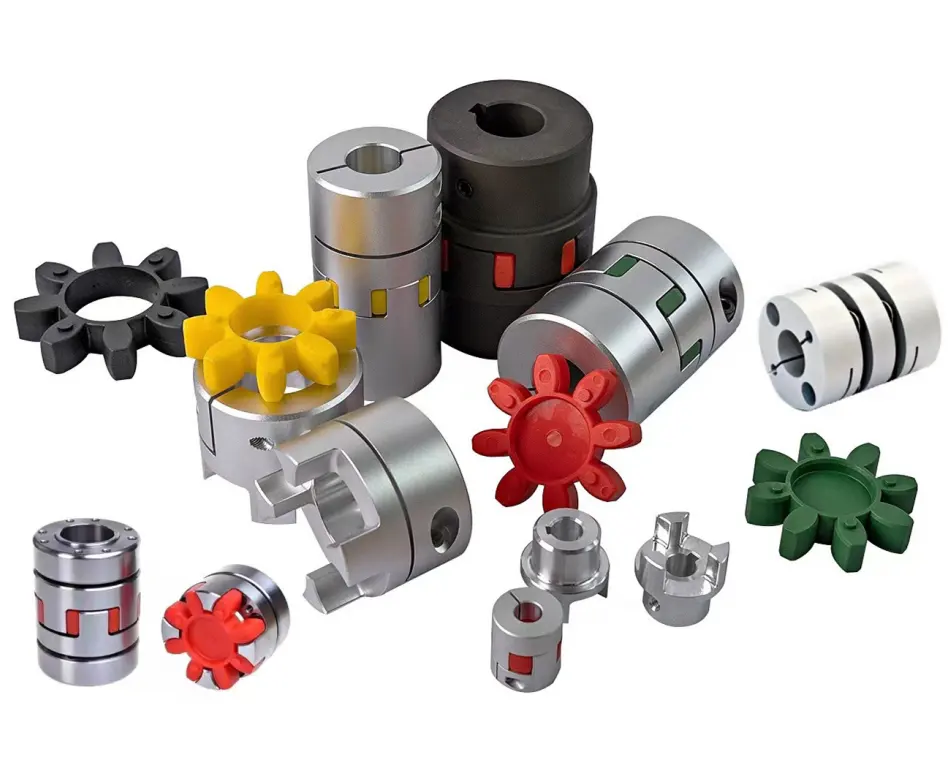 Can jaw couplings be used in applications with high shock and impact loads?
Yes, jaw couplings can be used in applications with high shock and impact loads, but their suitability depends on the specific design and construction of the coupling as well as the magnitude and frequency of the shock and impact loads. Jaw couplings are known for their ability to handle certain levels of shock and vibration due to the presence of the elastomer spider, which acts as a damping element to absorb and dissipate vibrations. However, there are some important considerations to take into account when using jaw couplings in high shock and impact load applications:
Coupling Material: The choice of coupling material is crucial in applications with high shock and impact loads. Couplings made from robust materials, such as steel or alloy, provide better resistance to deformation and can handle higher impact forces compared to couplings made from less sturdy materials.
Elastomer Spider: The elastomer spider is the central element of the jaw coupling and is responsible for absorbing shocks and vibrations. It is essential to select an elastomer spider with the appropriate hardness and resilience for the specific application. Harder elastomers can withstand higher loads but may transmit more vibration, while softer elastomers offer better shock absorption but have lower torque capacity. Choosing the right elastomer hardness is a trade-off between shock absorption and torque transmission requirements.
Operating Conditions: Consider the operating conditions, such as the frequency and magnitude of shock and impact loads, when selecting a jaw coupling. For applications with intermittent or occasional shock loads, standard jaw couplings with moderate shock absorption capabilities may suffice. However, for continuous or severe shock loads, specialized high-torque jaw couplings with enhanced shock absorption properties might be more suitable.
Regular Maintenance: In high shock and impact load applications, it is crucial to perform regular maintenance and inspections to identify any signs of wear, fatigue, or damage to the coupling components. Regular maintenance ensures that the coupling remains in good working condition and minimizes the risk of unexpected failures due to excessive loading.
Consider Alternative Couplings: While jaw couplings can handle certain levels of shock and impact loads, some applications with exceptionally high loads may require more specialized couplings, such as grid couplings, gear couplings, or disc couplings. These couplings are designed explicitly for heavy-duty applications with high shock and impact loads and can offer superior performance and reliability under such conditions.
In conclusion, jaw couplings can be used in applications with high shock and impact loads, but the specific coupling design, material, elastomer hardness, and operating conditions must be carefully considered. Proper selection, installation, and maintenance of the coupling are essential to ensure reliable performance and longevity in challenging operating environments with significant shock and impact loads.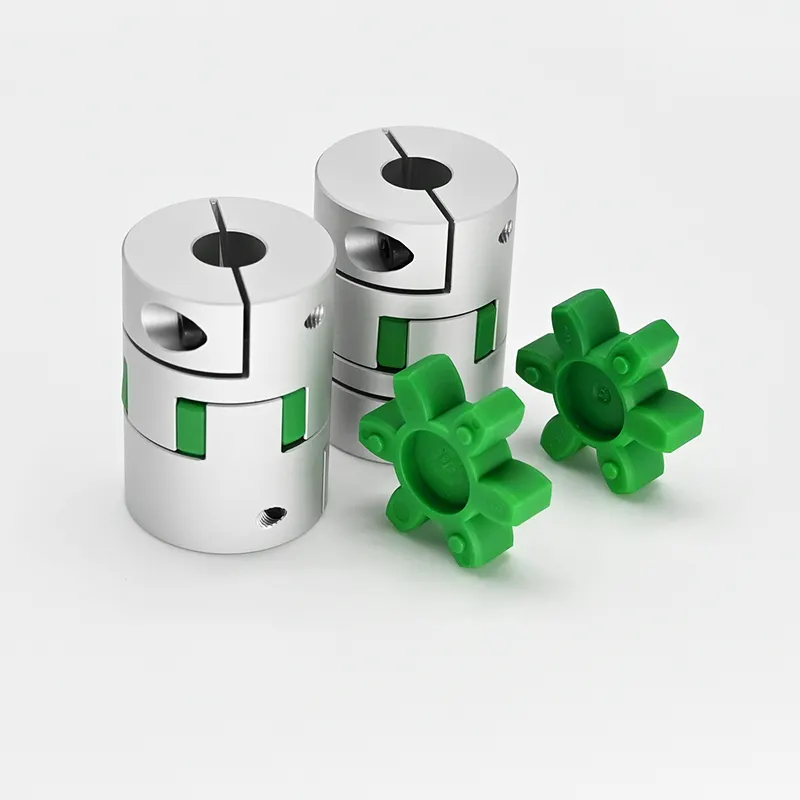 Types of Jaw Coupling Designs
Jaw couplings come in various designs to meet different application requirements. The main types include:
One-Piece Jaw Coupling: This design consists of a single piece of material, typically made of steel or aluminum. It offers simplicity and compactness, making it suitable for light to medium-duty applications.
Two-Piece Jaw Coupling: This design features two separate hubs with a flexible spider placed in between. The two-piece design allows for easier assembly and disassembly, making it convenient for maintenance and replacement of the elastomeric spider.
Three-Piece Jaw Coupling: In this design, the coupling includes three parts: two hubs and an insert. The hubs are typically made of metal, while the insert is an elastomeric element (spider). Three-piece jaw couplings provide better damping of vibrations and are commonly used in applications where vibration isolation is crucial.
Customizable Jaw Coupling: Some manufacturers offer customizable jaw couplings, allowing customers to choose different hub styles, materials, and spider hardness to tailor the coupling's performance for specific applications.
Each design has its advantages and is selected based on factors such as torque requirements, misalignment compensation, and ease of maintenance.



editor by CX 2023-08-14