Product Description
Product Description
COUPLINGS
| | | | | | | | |
| --- | --- | --- | --- | --- | --- | --- | --- |
| HRC | FCL | Chain coupling | GE | L | NM | MH | Torque limiter |
| HRC 70B | FCL90 | KC4012 | GE14 | L050 | NM50 | MH45 | TL250-2 |
| HRC 70F | FCL100 | KC4014 | GE19 | L070 | NM67 | MH55 | TL250-1 |
| HRC 70H | FCL112 | KC4016 | GE24 | L075 | NM82 | MH65 | TL350-2 |
| HRC 90B | FCL125 | KC5014 | GE28 | L090 | NM97 | MH80 | TL350-1 |
| HRC 90F | FCL140 | KC5016 | GE38 | L095 | NM112 | MH90 | TL500-2 |
| HRC 90H | FCL160 | KC6018 | GE42 | L099 | NM128 | MH115 | TL500-1 |
| HRC 110B | FCL180 | KC6571 | GE48 | L100 | NM148 | MH130 | TL700-2 |
| HRC 110F | FCL200 | KC6571 | GE55 | L110 | NM168 | MH145 | TL700-1 |
| HRC 110H | FCL224 | KC8018 | GE65 | L150 | NM194 | MH175 |   |
| HRC 130B | FCL250 | KC8571 | GE75 | L190 | NM214 | MH200 |   |
| HRC 130F | FCL280 | KC8571 | GE90 | L225 |   |   |   |
| HRC 130H | FCL315 | KC1571 |   |   |   |   |   |
| HRC 150B | FCL355 | KC12018 |   |   |   |   |   |
| HRC 150F | FCL400 | KC12571 |   |   |   |   |   |
| HRC 150H | FCL450 |   |   |   |   |   |   |
| HRC 180B | FCL560 |   |   |   |   |   |   |
| HRC 180F | FCL630 |   |   |   |   |   |   |
| HRC 180H |   |   |   |   |   |   |   |
| HRC 230B |   |   |   |   |   |   |   |
| HRC 230F |   |   |   |   |   |   |   |
| HRC 230H |   |   |   |   |   |   |   |
| HRC 280B |   |   |   |   |   |   |   |
| HRC 280F |   |   |   |   |   |   |   |
| HRC 280H |   |   |   |   |   |   |   |
Catalogue
Workshop
   Lots of coupling in stock
 
FAQ
Q1: Are you trading company or manufacturer ?
A: We are factory.
 
Q2: How long is your delivery time and shipment?
1.Sample Lead-times: 10-20 days.
2.Production Lead-times: 30-45 days after order confirmed.
Q3: What is your advantages?
1. The most competitive price and good quality.
2. Perfect technical engineers give you the best support.
3. OEM is available.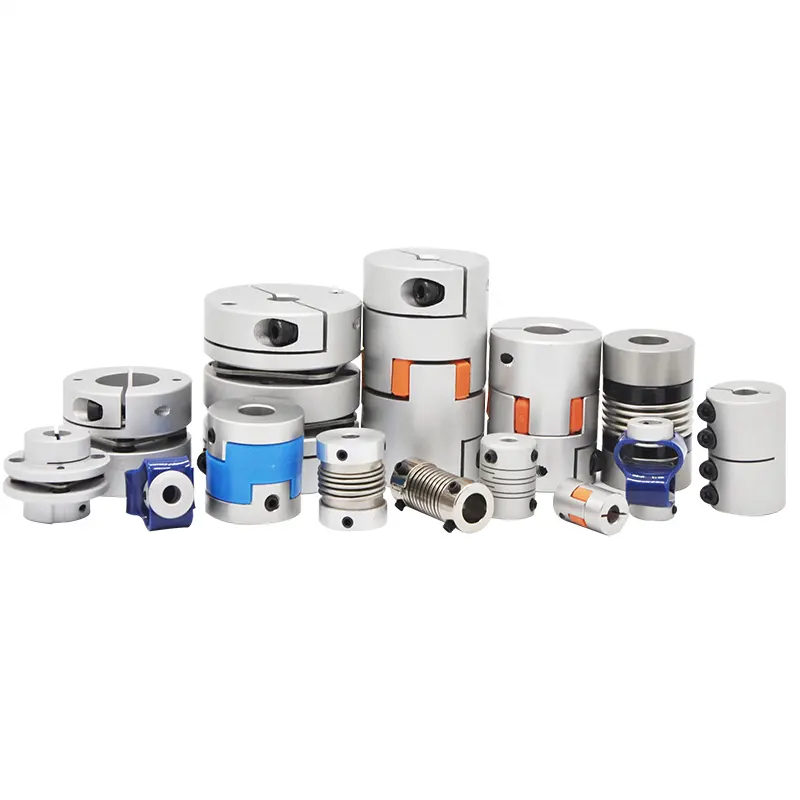 Installing and Aligning a Jaw Coupling for Optimal Performance
Proper installation and alignment of a jaw coupling are critical to ensure optimal performance, minimize wear, and prevent premature failure. Here are the steps to install and align a jaw coupling correctly:
Inspect the Coupling: Before installation, inspect the coupling components for any damage or defects. Ensure that the elastomeric spider (flexible element) is in good condition and free from any debris.
Prepare the Shaft Ends: Clean the shaft ends and remove any dirt, rust, or burrs. Make sure the shafts are smooth and free from contaminants that could affect the coupling's grip.
Insert the Spider: Place the elastomeric spider into the jaws of one coupling half. It's crucial to ensure the spider is seated correctly and evenly distributed within the jaws.
Align the Coupling Halves: Carefully align the two coupling halves, ensuring that the shaft ends are concentric and coaxial. Misalignment can lead to additional stresses and premature wear on the coupling.
Tighten Fasteners: Insert the fasteners (usually set screws or clamping bolts) and tighten them evenly and sequentially. It's essential to follow the manufacturer's recommended torque values to avoid overtightening, which could damage the spider or cause stress on the shafts.
Check Alignment: After tightening the fasteners, recheck the alignment of the coupling to ensure the shafts remain properly aligned. If necessary, make any adjustments to achieve accurate alignment.
Lubrication: Some jaw couplings may require lubrication for smooth operation. Check the manufacturer's guidelines for lubrication requirements and use the recommended lubricant.
Run-In Period: After installation, it's advisable to run the coupling at low speed and gradually increase the load to allow the spider to settle into its operating position. This run-in period helps ensure proper seating and further verifies alignment.
It's essential to follow the manufacturer's installation instructions and guidelines specific to the jaw coupling model being used. Proper installation and alignment will result in reliable and efficient power transmission, reduced maintenance costs, and extended coupling life.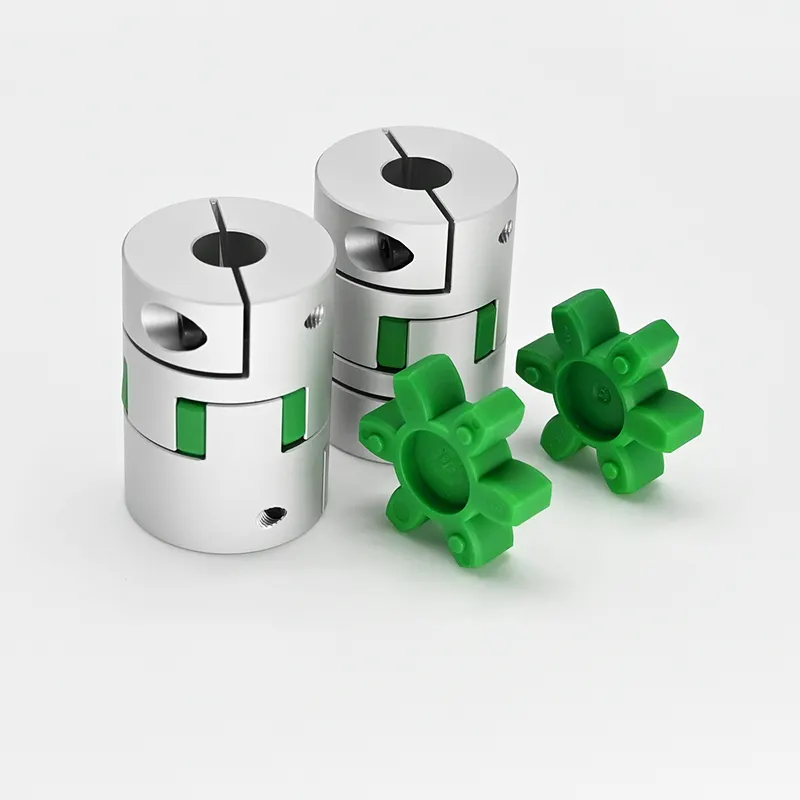 How do jaw couplings handle axial movement in rotating machinery?
Jaw couplings are primarily designed to handle angular and parallel misalignment between rotating shafts. While they are not specifically designed for axial movement compensation, they can accommodate a limited amount of axial movement under certain conditions.
The ability of a jaw coupling to handle axial movement depends on the specific design of the coupling and the type of elastomer spider used. The elastomer spider serves as the flexible element between the two coupling hubs and is responsible for transmitting torque and compensating for misalignment. Some jaw couplings have an elastomer spider with axial flexibility, allowing the coupling to accommodate minor axial movements while maintaining effective torque transmission.
However, it is essential to note that jaw couplings have limitations regarding axial movement. They are not designed for significant axial loads or axial displacements. Excessive axial movement can lead to premature wear and damage to the elastomer spider, reducing the coupling's performance and lifespan.
If an application requires significant axial movement compensation, other types of couplings may be more suitable. For instance, flexible beam couplings or bellows couplings are designed specifically to handle axial movement and are often used in applications where axial misalignment is a critical consideration.
In summary, while jaw couplings can handle a certain amount of axial movement, they are primarily intended for angular and parallel misalignment compensation. For applications with significant axial movement requirements, it is essential to consider coupling types explicitly designed for this purpose.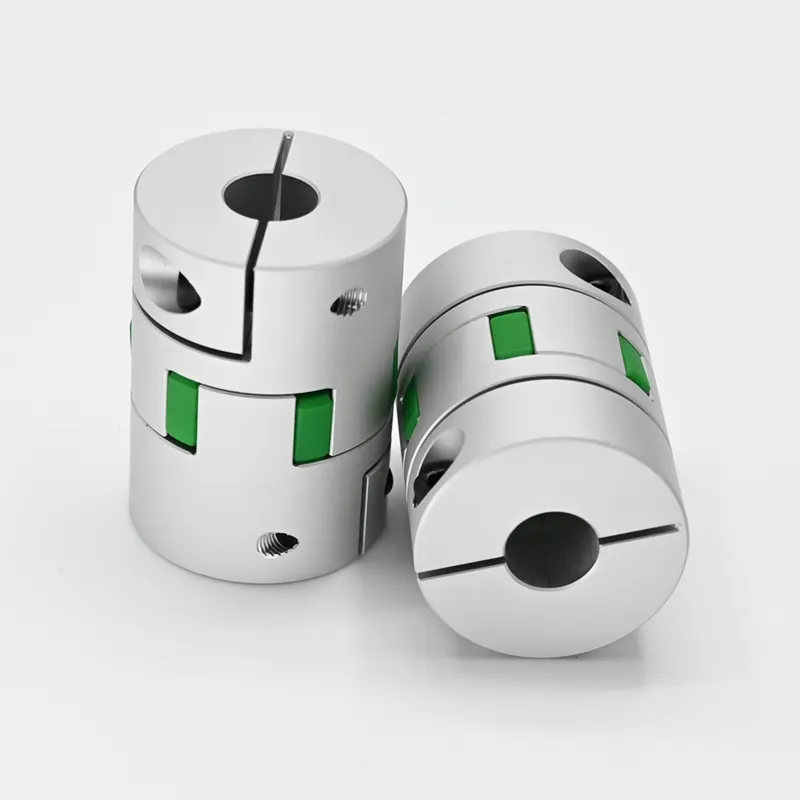 What is a Jaw Coupling and How Does It Work?
A jaw coupling is a type of mechanical coupling used to connect two shafts in machinery. It is designed to transmit torque while compensating for shaft misalignments and dampening vibrations. The coupling consists of two hubs with three curved jaws each and an elastomeric spider placed between them.
The working principle of a jaw coupling is based on the flexibility of the elastomeric spider. When the two hubs are brought together, the spider gets compressed between them. The curved shape of the jaws allows the spider to flex, accommodating angular and axial misalignments between the shafts.
During operation, when torque is applied to one shaft, it is transmitted through the spider to the other shaft, enabling power transmission. The elastomeric material of the spider also acts as a damping element, reducing vibrations and shock loads in the system.
Jaw couplings are commonly used in various applications, such as pumps, compressors, conveyors, and other power transmission systems. Their simple design, ease of installation, and ability to handle misalignments make them popular choices for connecting rotating shafts in machinery.



editor by CX 2023-08-09